FAQs
Frequently Asked QUESTIONS
company
Services
shipping
Orders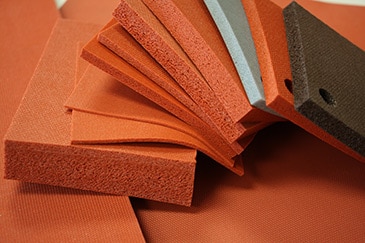 quick links
Q: Where does National Silicone produce their materials?
A: We have developed long-term strategic production partnerships in China, UK and the US that supply our full range of silicone products.
Q: How are your products sold? 
A: Our materials are sold in container loads (CL) and less than container loads (LCL) when you purchase directly from National Silicone. Additionally, we have distribution partners in the US who have a high level of stock on hand to supply in rolls, strips, cut sheets, etc.
Q: Where is the company? 
A: National Silicone is a brand owned by GCP Industrial Products and is headquartered out of Kitchener ON, Canada.
Q: Are you selling only sheets and rolls?
A: Our primary business is selling our solid silicone, silicone sponge and silicone foam in sheets and rolls from 1/16″  to 1/2″ thick and in widths from 36″ to 72″ wide.
A: However, we also have the ability to supply silicone base across a many standard high temperature vulcanizing (HTV), high consistency rubber (HCR) and liquid silicone rubber (LSR) grades.
Q: Do you offer converting? Slitting? Die cutting?
A: Yes. Through our network of preferred distributors we offer converting, slitting, die cutting, pressure sensitive adhesive, extrusions, compound and other services.
Q: Where do your products ship from?
A: If you are ordering smaller qualities then they will ship from 3 possible locations: Santa Ana CA, Columbus OH, Sealy TX.
A: If you are ordering container loads (CL) or less than container loads (LCL) directly from us, your products will be drop-shipped directly from our manufacturing locations.
Q: It says you ship in 24 – 48 hours. Is that accurate?
A: Yes, if you buy from one of our stocking distributors then your order will ship within 1-2 days with most products shipping the day they are ordered.
A: No, if you are purchasing container load (CL) or less than container load (LCL) quantities directly from us, you can expect a lead time of 8-10 weeks. 3-5 weeks for production and approx 4 weeks delivery depending on the destination.
We will work closely with you at the time of order to understand your unique requirements and organize a supply option that best suits your needs.
Q: What is your minimum order quantity?
A: Minimum order quantity varies slightly depending on the stocking distributor but as a guideline a minimum order will be one roll or $150.00 USD, with each line item being a minimum of $50.00 USD.
A: If you are purchasing directly from us in container loads (CL) or less than container loads (LCL) then our minimum order volume is 10,000 lbs. You can mix and match materials and grades as you please, there are no minimums per line item.