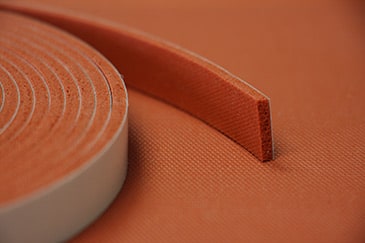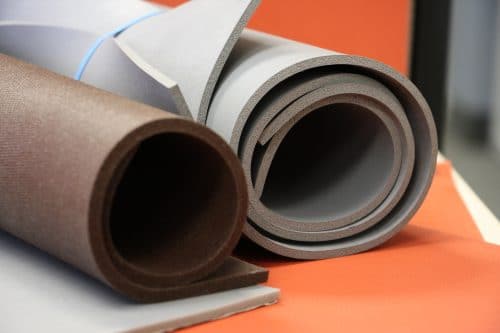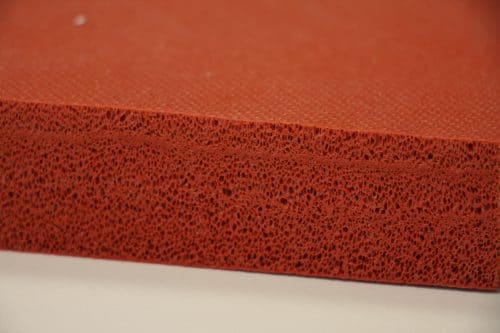 SILICONE SPONGE SHEET
Closed Cell Silicone Sponge
National Silicone offers several grades of silicone sponge sheet. Each grade comes with its own set of unique characteristics specifically designed for high performance. The heat resistant silicone sponge we offer is considered closed cell which means the cells are non-interconnecting. The complete enclosure of each cell means our sponge sheets are ideal for applications where mechanical properties (elasticity, tensile strength, elongation, hardness and fatigue limit) are important.
At the moment we offer 3 standard commercial grades; soft (3-8 psi), medium (6-14 psi) and firm (12-20 psi), as well as specialty grades such as blue/grey sponge and flame resistant UL94 V-0. All materials are come in a wide range of thicknesses, are flexible, compressible, and offer non-stick characteristics.
Silicone Sponge Sheet Benefits
Closed cell silicone sponge offers customers a highly versatile material that is easy to convert or fabricate. It is also bacteria and mildew resistant with good thermal stability. As such, it is often the rubber of choice for gaskets and seals in applications where dust and water need to be kept out. In addition, to the qualities above silicone sponge is also:
Food Safe – through raw materials and proper processing closed cell silicone sponge can be FDA approved.
Low Compression Set – great ability to rebound to its original thickness, this trait makes it well suited for application under compressive load.
Ozone & UV Resistant – very good weathering properties makes it an ideal choice for outdoor applications.
Temperature Resistant – excellent material for extreme hot or cold applications.
Water & Moisture Resistant – a closed cell structure means low water absorption and can be used in applications where minimal water entry is essential.
Silicone Sponge applications
Closed cell silicone sponge can be converted or fabricated into many products. These end uses typically require materials that are quality consistent, dependable and can deliver outstanding performance while meeting critical safety standards in harsh working environments. For silicone sponge sheets, such as ours, potential end uses can include:
Automotive – seals & vibration damping pads
Construction – gaskets, seals & vibration damping pads
Food & Beverage – gasket & seals
HVAC – gaskets, insulation, seals & vibration damping pads
Led Lighting – gaskets, strips, seals & vibration damping pads
Mass Transit – insulation & vibration damping pads
Oil & Gas – gaskets, insulation & seals
Silicone Sponge roll Specifications
Supplying both smooth and fabric impression finished silicone sponge rolls provides increased choices for your engineering needs. A smooth surface finish allows for even sealing and ease of use when applying laminates and tapes. Whereas a textured finished sponge provides excellent adhesion for PSA usages.
Soft Density Silicone Sponge Sheet

Thickness (in) – 1/16 -1/2
Typical length (ft) – 25 – 100
Typical width (in) – 36
Surface finishing – Smooth or fabric impression finish, both sides
Cell structure – Closed cell
Color – Red/orange, grey, black, others available
Medium Density Silicone Sponge Sheet
AMS3195
Thickness (in) – 1/16 -1/2
Typical length (ft) – 25 – 100
Typical width (in) – 36
Surface finishing – Smooth or fabric impression finish, both sides
Cell structure – Closed cell
Color – Red/orange, grey, black, others available
Firm Density Silicone Sponge Sheet
AMS3196
Thickness (in) – 1/16 -1/2
Typical length (ft) – 25 – 100
Typical width (in) – 36
Surface finishing – Smooth or fabric impression finish, both sides
Cell structure – Closed cell
Color – Red/orange, grey, black, others available
COMMERCIAL GRADE SOFT DENSITY SILICONE SPONGE SHEET
DIMENSIONS AND APPEARANCE
Thickness (in) – 1/16 -1/2
Typical length (ft) – 25 – 100
Typical width (in) – 36
Surface finishing – Fabric impression finish, both sides
Cell structure – Closed cell
Color – Red/orange, grey, black, others available on request
PHYSICAL PROPERTIES
| | | | |
| --- | --- | --- | --- |
| Compression deflection (25%) | psi (kPa) | 3-8 (21-55) | ASTM D1056 |
| Density < 0.25" thick | pcf (kg/m3) | 30 (475) max. | ASTM D1056 |
| Density ≥ 0.25" thick | pcf (kg/m3) | 27 (430) max. | ASTM D1056 |
| Compression set (22h, 100°C) | % | 60 max. | ASTM D1056 |
| Tensile strength | psi (kPa) | 41 (283) | ASTM D412 |
| Elongation | % | 259 | ASTM D412 |
| Low temperature brittleness | °C (°F) | -75 (-103) | ASTM D746 |
 TOLERANCES
| | | |
| --- | --- | --- |
| Target Thickness, in (mm) | Minimum, mm | Maximum, mm |
| 1/16 (1.6) | 1.30 | 1.90 |
| 3/32 (2.4) | 2.10 | 2.70 |
| 1/8 (3.2) | 2.80 | 3.60 |
| 3/16 (4.8) | 4.40 | 5.20 |
| 1/4 (6.4) | 6.00 | 6.80 |
| 3/8 (9.5) | 9.00 | 10.00 |
| 1/2 (12.7) | 12.20 | 13.20 |
COMMERCIAL GRADE MEDIUM DENSITY SILICONE SPONGE SHEET AMS3195
DIMENSIONS AND APPEARANCE
Thickness (in) – 1/16 -1/2
Typical length (ft) – 25 – 100
Typical width (in) – 36
Surface finishing – Fabric impression finish, both sides
Cell structure – Closed cell
Color – Red/orange, grey, black, others available on request
PHYSICAL PROPERTIES
| | | | |
| --- | --- | --- | --- |
| Compression deflection (25%) | psi (kPa) | 6-14 (41-96) | ASTM D1056 |
| Density < 0.25" thick | pcf (kg/m3) | 43 (690) max. | ASTM D1056 |
| Density ≥ 0.25" thick | pcf (kg/m3) | 34 (550) max. | ASTM D1056 |
| Compression set (22h, 100°C) | % | 60 max. | ASTM D1056 |
| Tensile strength | psi (kPa) | 125 (862) | ASTM D412 |
| Elongation | % | 230 | ASTM D412 |
| Low temperature brittleness | °C (°F) | -55 (-67) | ASTM D746 |
 TOLERANCES
| | | |
| --- | --- | --- |
| Target Thickness, in (mm) | Minimum, mm | Maximum, mm |
| 1/16 (1.6) | 1.30 | 1.90 |
| 3/32 (2.4) | 2.10 | 2.70 |
| 1/8 (3.2) | 2.80 | 3.60 |
| 3/16 (4.8) | 4.40 | 5.20 |
| 1/4 (6.4) | 6.00 | 6.80 |
| 3/8 (9.5) | 9.00 | 10.00 |
| 1/2 (12.7) | 12.20 | 13.20 |
COMMERCIAL GRADE FIRM DENSITY SILICONE SPONGE SHEET AMS3196
DIMENSIONS AND APPEARANCE
Thickness (in) – 1/16 -1/2
Typical length (ft) – 25 – 100
Typical width (in) – 36
Surface finishing – Fabric impression finish, both sides
Color – Red/orange, grey, black
PHYSICAL PROPERTIES
| | | | |
| --- | --- | --- | --- |
| Compression deflection (25%) | psi (kPa) | 12-20 (83-138) | ASTM D1056 |
| Density < 0.25" thick | pcf (kg/m3) | 52 (830) max. | ASTM D1056 |
| Density ≥ 0.25" thick | pcf (kg/m3) | 43 (692) max. | ASTM D1056 |
| Compression set (22h, 100°C) | % | 60 max. | ASTM D1056 |
| Tensile strength | psi (kPa) | 100 (689) | ASTM D412 |
| Elongation | % | 200 | ASTM D412 |
| Low temperature brittleness | °C (°F) | -55 (-67) | ASTM D746 |
TOLERANCES
| | | |
| --- | --- | --- |
| Target Thickness, in (mm) | Minimum, mm | Maximum, mm |
| 1/16 (1.6) | 1.30 | 1.90 |
| 3/32 (2.4) | 2.10 | 2.70 |
| 1/8 (3.2) | 2.80 | 3.60 |
| 3/16 (4.8) | 4.40 | 5.20 |
| 1/4 (6.4) | 6.00 | 6.80 |
| 3/8 (9.5) | 9.00 | 10.00 |
| 1/2 (12.7) | 12.20 | 13.20 |