NS-100 Soft Silicone Foam
Cellular Silicone Foam
This soft silicone foam is cast from liquid silicone and is designed to provide long term sealing, cushioning and vibration isolation performance. It is a direct comparable to Rogers Bisco® HT 870 cellular material.


Most importantly, it offers UL 94 V-0 flame resistance, FDA compliance for repeated use in contact with food and has excellent low stress relaxation properties which helps protect against compression set.
KEY FEATURES
Highly adaptable to various applications and environments
Enhanced sealing capabilities
Low closure force
Flame retardant
Excellent compressibility
UV/Ozone resistant
STANDARDS
21 CFR 177.2600
FAR 25.853
MATERIAL AVAILABILITY
Available in – Continuous rolls or cut sheets
Thickness available (in) – 0.032 to 0.500
Roll lengths available (ft) – *16 – 65.6, depending on thickness
Typical roll widths (in) – *18
Surface finishing – Smooth finish, both sides
Cell structure – Open cell
Color – Grey, Black, *White, *Red
*Subject to MOQ
TEMPERATURE RANGE
-67°F to +392°F  (-55°C to 200°C)
PHYSICAL PROPERTIES
Properties
Compression deflection (25%)
psi (kPa)
3-6 (20-40)
ASTM D1056
Density
pcf (kg/m3)
22 (350) max.
ASTM D1056
Compression set (22h, 100°C)
%
< 5
ASTM D1056
Tensile strength
psi (kPa)
29 (200)
ASTM D412
Flammability
–
V-0 rating
UL 94
Request A Quote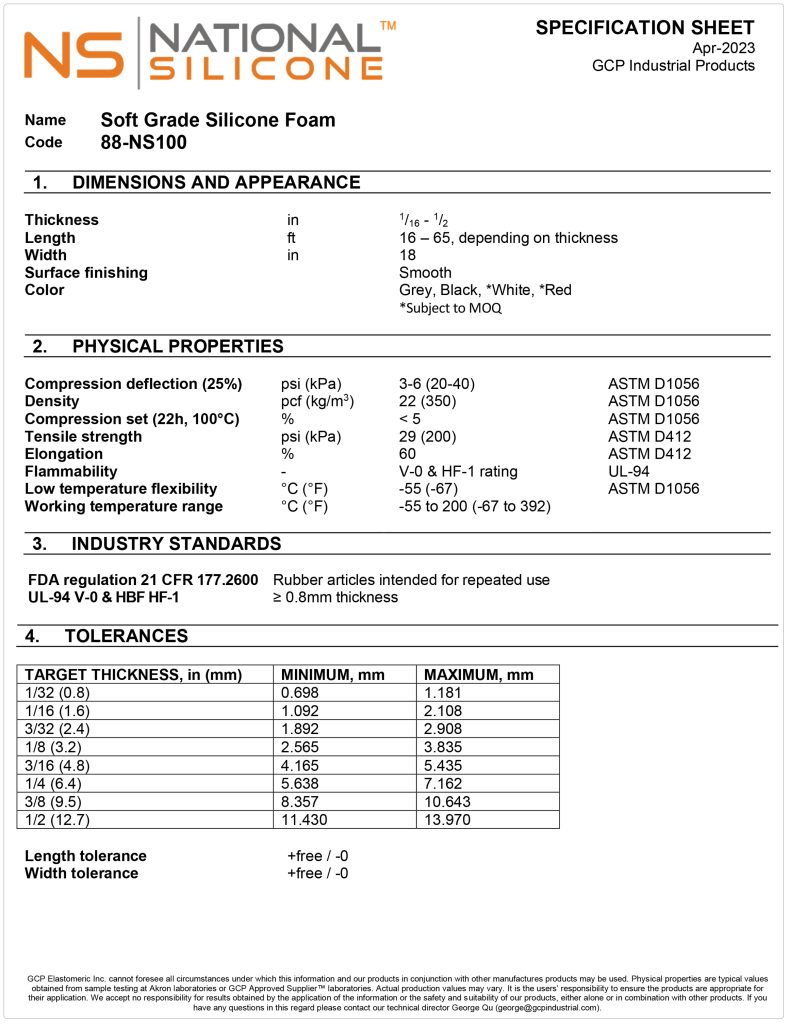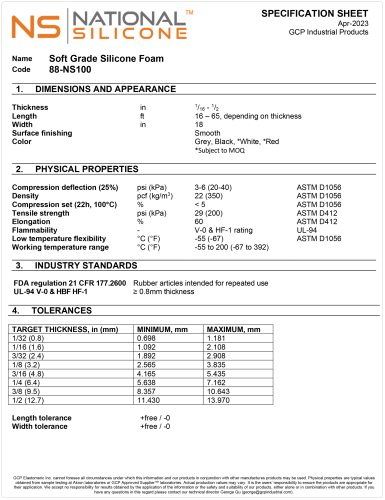 SILICONE FOAM GRADES
ACCREDITATION'S



More Information
UL 94 V-0
UL 94 V-0 is a safety and flammability standard by Underwriters Laboratories.
This material is compliant with the UL 94 V-0 test standard for flammability.
The vertical burn test measures the self-extinguishing time of a vertically oriented polymer specimen. The test evaluates both the burning and afterglow times and dripping of the burning test specimen.
In order to be rated UL 94 V-0, the burning must stop within 10 seconds, no flame propagation or dripping.
21 CFR 177.2600
21 CFR 177.2600 is a specification from the U.S. Code of Federal Regulations (CFR) used by the Food and Drug Administration (FDA).
This material is compliant with the requirements of 21 CFR 177.2600.
The specification covers rubber articles intended for repeated use and may be safely used in producing, manufacturing, packing, processing, preparing, treating, packaging, transporting, or holding food, subject to the provisions of this section.
Meaning this material is generally recognized as safe, and can be used in applications where repeated use in contact with food occurs.
FAR 25.853
FAR 25.853 is a standard from the U.S. Code of Federal Regulations (CFR) used by the aerospace/aviation industry.
This material is compliant with the requirements of FAR 25.853.
The Horizontal Bunsen Burner test is used to determine the resistance of cabin and cargo compartment materials to a flame applied for 15-seconds.
It is most commonly used to show compliance with 14 CFR 25.853(a) or in our case 14 CFR 25.853(a) at Amdt. 25-116; Appendix F, Part I(a)(1)(iv) & (v).
Focused on Partnerships
We support our customers, and prospects throughout the purchase journey. Our team is made up of experienced professionals and highly trained engineers who will help with material selection, sampling, testing, and any application support you might need to accomplish your goals.
Speak with a product specialist about your needs