GMW16392 Grade Silicone Foam
Cellular Silicone Foam
Leveraging 10+ years of experience and engineering capability, we developed a silicone foam fully meeting the demanding GMW standard.

This medium density automotive purposed silicone foam is approved and listed for GMW16392 Class 2 Type 2 on the international General Motors MATSPC database. In areas such as tensile strength and elongation this product far exceeds any minimum requirements or expectations.
KEY FEATURES
Excellent water impermeability under pressure
Resistance to long-term environmental conditions
Extreme high and low temperatures
Low compression set
UV/Ozone resistant
STANDARDS
GMW16392 Class 2 Type 2
Rechargeable Energy Storage Systems (RESS)
MATERIAL AVAILABILITY
Available in – Continuous rolls or cut sheets
Thickness available (in) – 0.0625 to 0.500
Typical roll lengths (ft) – 25 to 100
Typical roll widths (in) – 36
Surface finishing – Fabric impression finish, both sides
Cell structure – Closed cell
Color – Red/orange
TEMPERATURE RANGE
-103°F to +450°F  (-75°C to 232°C)
PHYSICAL PROPERTIES
| | | | |
| --- | --- | --- | --- |
| Properties | Unit | Requirement | Test Method |
| Compression deflection (25%) | psi (kPa) | 6-14 (41-97) | ISO 3386 |
| Density | pcf (kg/m3) | 28-31 (450-500) | ISO 845 |
| Compression set (24h, 100°C) | % | (10) max. | ISO 6916-1 |
| Tensile strength | psi (kPa) | 24 (165) min. | ISO 1798 |
| Elongation | % | 50 min. | ISO 1798 |
Request A Quote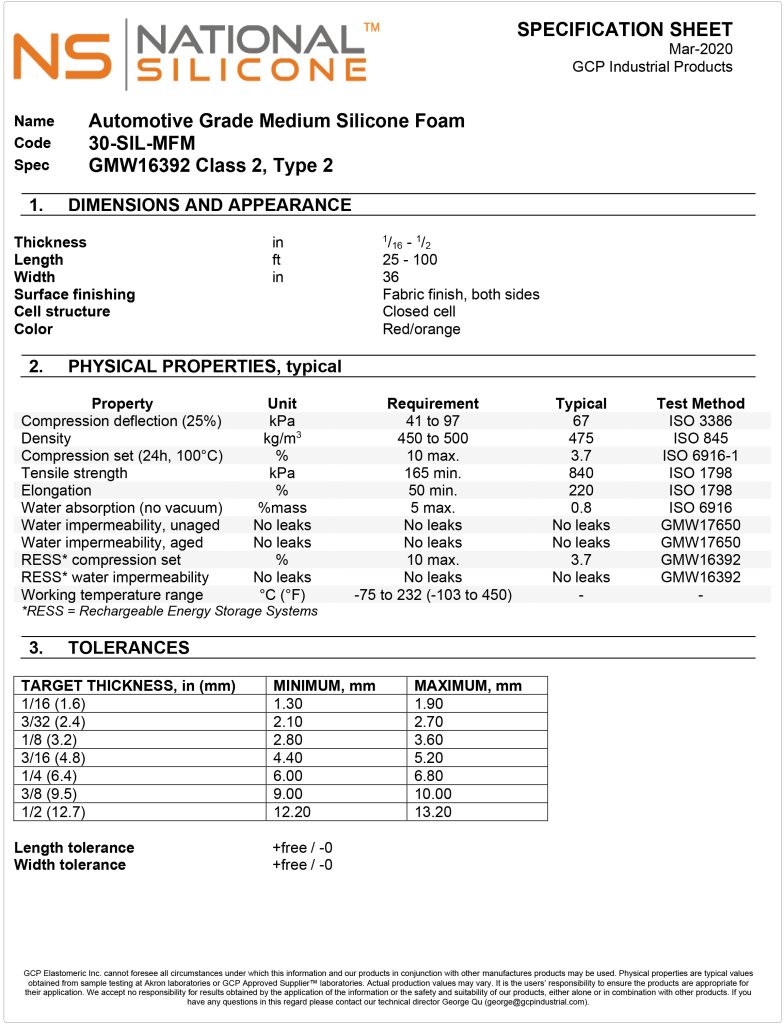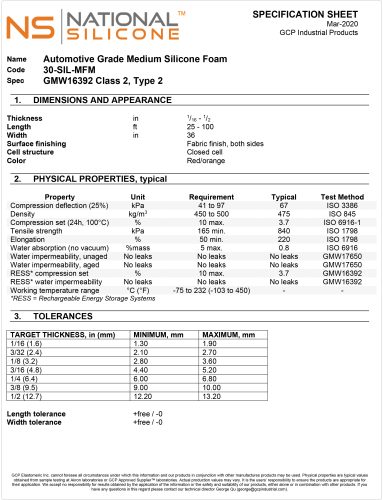 Download Spec Sheet
SILICONE FOAM GRADES
ACCREDITATION'S


More Information
GMW16392
GMW16392 is an automotive specification from General Motors.
This specification covers silicone foam materials used for sealing various components within vehicles. These silicone foam materials are recommended for applications where the operating temperature range is -55 °C to +200 °C. Materials can be produced in continuous rolls, sheets, or cast bun blocks.
Our material is approved and listed for GMW16392 Class 2 Type 2 on the international General Motors MATSPC database.
Material Class II: Closed Cell Foam.
Material Definition: Type 2 – This is a medium modulus (medium cellular) foam, which can be easily compressed and used as noise isolation and as an air, dust, and fluid seal.
Rechargeable Energy Storage Systems
This silicone foam meets the rechargeable energy storage systems (RESS) requirements for compression set and water impermeability, making it safe to use in electric and hybrid electric vehicles. Best suited for use in fluid and dust seals, vibration isolation and battery cell alignment.
Focused on Partnerships
We support our customers, and prospects throughout the purchase journey. Our team is made up of experienced professionals and highly trained engineers who will help with material selection, sampling, testing, and any application support you might need to accomplish your goals.
Speak with a product specialist about your needs