ZZ-R-765 / A-A-59588 CL 2A/2B Silicone
Solid Silicone Sheet
Our ZZ-R-765 / A-A-59588 CL 2A/2B post-cured military specification silicone sheet is designed to be used in applications where higher physical properties and lower compression set are needed.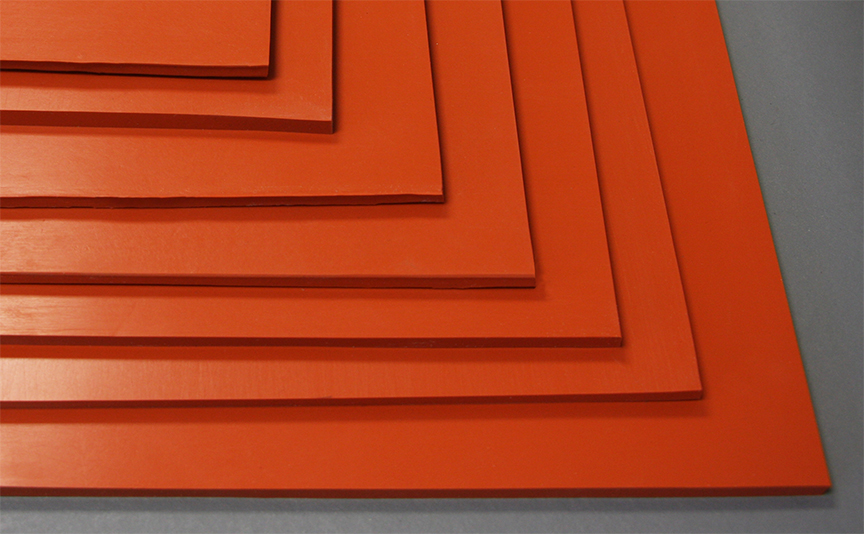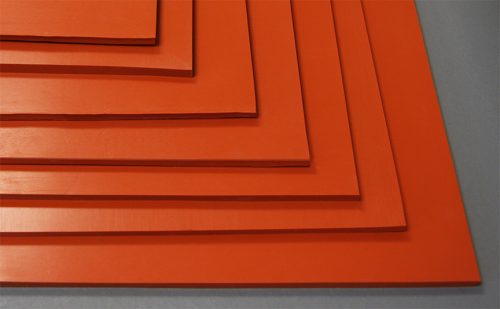 Military and Aerospace applications often require silicone with high temperature resistance, crack resistance and flex resistance for various seals and vibration-isolating uses. This general purpose grade silicone sheeting is available in rolls and cut sheets for easy converting and fabricating.
KEY FEATURES
Excellent for seals and gaskets
Easy to die-cut
Long service life
Low compression set
UV/Ozone resistant
STANDARDS
A-A-59588 CL 2A/2B  (formally ZZ-R-765 CL 2A/2B)
ASTM D2000 GE
MATERIAL AVAILABILITY
Available in – Continuous rolls or cut sheets
Durometers available – 40, 50, 60, 70, 80
Thicknesses available (in) – 0.03 to 0.500
Typical roll lengths (ft) – 25 to 100
Typical roll widths (in) – 36, 39.4, 47.2, 59.1
Surface finishing – Smooth finish, both sides
Color – Red/orange, grey, black, color matching available
TEMPERATURE RANGE
-80°F to +450°F  (-62°C to 232°C)
PHYSICAL PROPERTIES
Properties
Hardness, Shore A
40
50
60
70
80
ASTM D2240
Tensile strength, psi
700
700
650
650
650
ASTM D412
Elongation, min %
240
200
150/100
125/80
100/60
ASTM D412
C. set (70h, 150°C), max %
35/25
35/25
40/25
40/25
45/30
ASTM D395B
Request A Quote
SOLID SILICONE SHEETING GRADES
ACCREDITATION'S


More Information
A-A-59588 CL 2A/2B
A-A-59588, formally known as ZZ-R-765, is a defense and aerospace specification.
This material is compliant with Federal specification A-A-59588 2A for high temperature resistance in 40, 50, 60, 70, 80 shore A durometer hardness values.
Also compliant with Federal specification A-A-59588 2B for high temperature resistance and low compression set in 40, 50, 60, 70, 80 shore A durometer hardness values.
A-A-59588 CL 2A/2B is a specification that covers classes of silicone rubber in various grades. Class 2 is a reference to where resistance to extreme high temperature is required to approximately 219°C (425°F) and low temperature resistance to about -62°C (-80°F). Class 2B material also possesses low compression set.
ASTM D2000 GE
ASTM D2000 is a specification for rubber products in automotive applications from the American Society for Testing and Materials.
This material passes the ASTM D2000 GE specification for silicone materials.
The specification covers the properties of vulcanized rubber materials (natural rubber, reclaimed rubber, synthetic rubbers, alone or in combination) that are intended for, but not limited to, use in rubber products for automotive applications.
Focused on Partnerships
We support our customers, and prospects throughout the purchase journey. Our team is made up of experienced professionals and highly trained engineers who will help with material selection, sampling, testing, and any application support you might need to accomplish your goals.
Speak with a product specialist about your needs