Commercial Grade Silicone
Solid Silicone Sheet
Our commercial grade silicone sheet is designed to deliver exceptional performance across all durometers for applications where physical properties are not critical but extreme temperature resistance is still needed.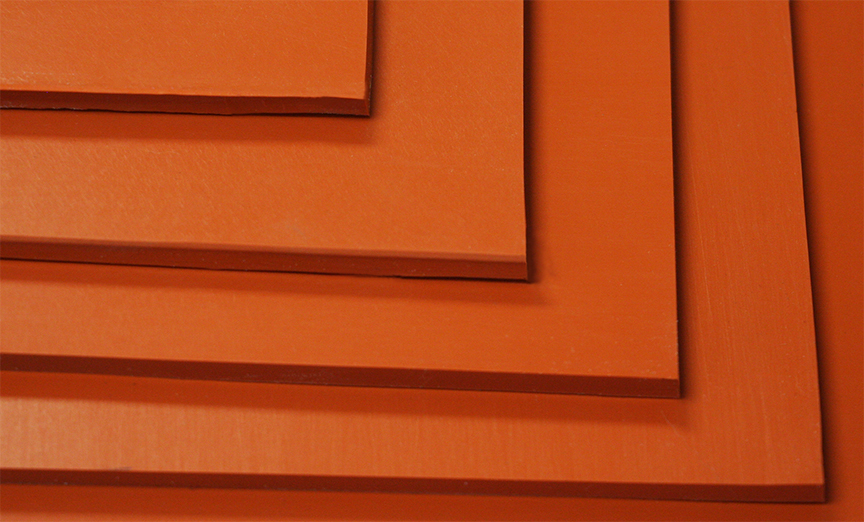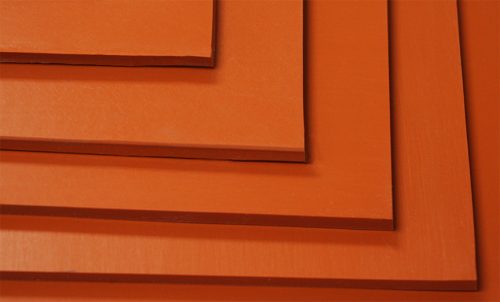 In addition, this material possesses an excellent resistance to chemicals and fluids. We offer our commercial grade silicone sheet in rolls and cut sheets for convenient converting and fabricating.
KEY FEATURES
Excellent for seals and gaskets
Easy to die-cut
Long service life
Low compression set
UV/Ozone resistant
SPECIFICATIONS
MATERIAL AVAILABILITY
Available in – Continuous rolls or cut sheets
Durometers available – 40, 50, 60, 70, 80
Thicknesses available (in) – 0.03 to 0.500
Typical roll lengths (ft) – 25 to 100
Typical roll widths (in) – 36, 48, 60, 72
Surface finishing – Smooth finish, both sides
Color – Red/orange, grey, black, color matching available
TEMPERATURE RANGE
-80°F to +450°F  (-62°C to 232°C)
PHYSICAL PROPERTIES
Properties
Hardness, Shore A</
40
50
60
70
80
ASTM D2240
Tensile strength, psi
950
1100
1100
1000
1000
ASTM D412
Elongation, min %
400
350
280
200
200
ASTM D412
Tear strength, (Die C) ppi
90
100
100
100
95
ASTM D624
Request A Quote
SOLID SILICONE SHEETING GRADES
ACCREDITATION'S


More Information
UL 94 HB
UL 94 HB is a is a safety and flammability standard by Underwriters Laboratories.
This material is compliant with the UL 94 HB test standard for flammability.
The horizontal burn test measures how quickly a horizontally oriented polymer specimen burns across when a flame is applied to one end of the sample.
In order for a material to be classified UL 94 HB, it must not have a burning exceeding 40 mm per minute over a 75 mm span for specimens having a thickness of 3.0 mm to 13 mm. For material with thickness less than 3mm the burning rate should not exceed 75mm per minute over a 75mm span. The material will also be rated as HB if it ceases to burn before the 100mm mark independent of thickness.
Focused on Partnerships
We support our customers, and prospects throughout the purchase journey. Our team is made up of experienced professionals and highly trained engineers who will help with material selection, sampling, testing, and any application support you might need to accomplish your goals.
Speak with a product specialist about your needs