Electrically Conductive Silicone
Solid Silicone Sheet
Our electrically conductive silicone sheet is proven to be an excellent sealing material and its high temperature resistance and static discharge properties make it great for applications such as silicone pads or electrical soldering mats.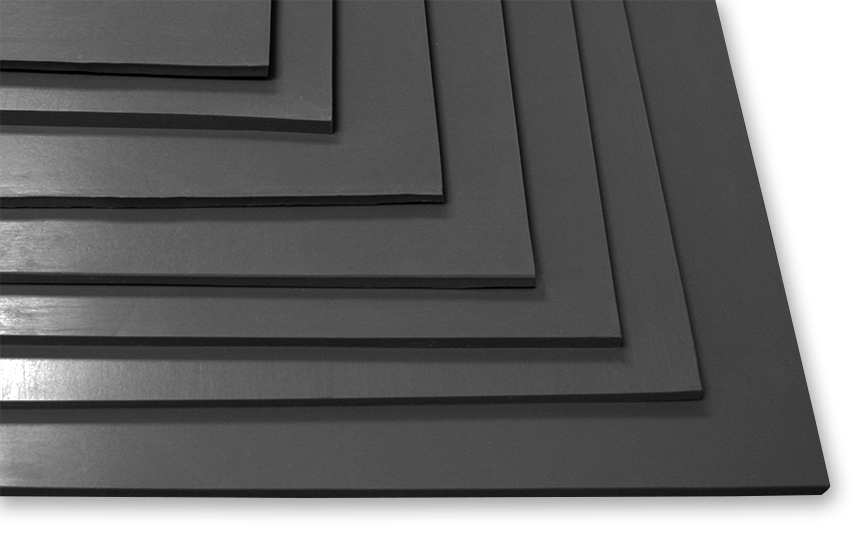 This 70 durometer electrically conductive silicone sheet is black with a smooth surface finish on both sides and is available in various thickness. It is a carbon black filled silicone material that will act as a low amperage conductor and provide protection against electrostatic discharge. It's static dissipative or anti static sheeting is resistant to extreme high and low temperatures.
KEY FEATURES
Excellent gasketing material
Extreme high & low temperature resistant
Low compression set
Relativity low electric resistivity
Protection against electrostatic discharge
STANDARDS
ASTM D2240
ASTM D412
ASTM D991
MATERIAL AVAILABILITY
Available in – Continuous rolls or cut sheets
Durometers available – 70
Thicknesses available (in) – 0.0625 to 0.25
Typical roll lengths (ft) – 50 to 100
Typical roll widths (in) – 36 & 48
Surface finishing – Smooth finish, both sides
Color – Black
TEMPERATURE RANGE
-65°F to +500°F  (-53°C to 260°C)
PHYSICAL PROPERTIES
Properties
Hardness
shore A
70
ASTM D2240
Tensile strength
psi
900
ASTM D412
Elongation
%
180
ASTM D412
Volume resistivity
ohms*cm
4.3
ASTM D624
Request A Quote
SOLID SILICONE SHEETING GRADES
ACCREDITATION'S


More Information
ASTM D2240-00
ASTM D2240-00 is a specification for the standard test method for rubber property—durometer hardness.
This material passes the ASTM D2240-00 specification for silicone materials.
This test method describes eight types of rubber hardness measurement devices known as durometers: types A, B, C, D, DO, O, OO and M. The procedure for determining indentation hardness of substances classified as thermoplastic elastomers, vulcanized (thermoset) rubber, elastomeric materials, cellular materials, and some plastics is also described.
ASTM D412
ASTM D412 is a standard test methods for vulcanized rubber and thermoplastic elastomers—tension.
This material passes the ASTM D412 specification for silicone materials.
ASTM D412 is the most common standard for determining the tensile properties of vulcanized (thermoset) rubber and thermoplastic elastomers. Compounds in this family are used to create a vast array of consumer goods such as tires, footballs, and rubber bands.
ASTM D991
ASTM D991 is a standard test method for rubber property—volume resistivity of electrically conductive and antistatic products.
This material passes the ASTM D991 specification for silicone materials.
The test method assumes that the surface conductivity is negligible compared with the conductivity through the specimen.
Focused on Partnerships
We support our customers, and prospects throughout the purchase journey. Our team is made up of experienced professionals and highly trained engineers who will help with material selection, sampling, testing, and any application support you might need to accomplish your goals.
Speak with a product specialist about your needs